April 1, 2021
no comments
Dashboards

It is a well known fact that most traders use one or more indicators to refine entry and exit points (some use many). Equally, many traders use indicators across multiple timeframes because it provides a better and more even view of the market, and so was born the standard multi-timeframe (MTF) dashboard to allow you to see for example all the RSI values from several timeframes at once, and there are plenty of these one trick ponys to buy for anything upto $200.
So dashboards have been around a while, and most provide a view of just one indicator for example the value of the RSI indicator across multiple timeframes, and most if not all require you to spend ages typing in lots of symbol names and other inputs just to get started, and then your stuck with the display the way it was built. Well now there is Mega Dash bringing you a huge step change in dashboards.
Introductory Price 34% discount + Special Offer
Mega Dash has just launched and is only availabe for a limited time at this amazing low price, so get it now!
Full price $149 get it today for just $98 – click here to purchase ► BUY MEGA DASH
Mega Dash owners can also claim a FREE version of our very popular Pivot Prof (details below)
[embedded content]

Mega Dash
The whole design concept of Mega Dash was provide the trader with a much greater choice of dashboard data and to make it as easy as possible to use.
So traders using Mega Dash can:
Create unlimited indicator sets from a large choice of 30 leading indicators and 21 timeframes


Create unlimited symbol sets from the Metatrader Market Watch

Create unlimited dashboards from the symbol and indicator sets

Do everything through a well designed on screen interface – quickly and easily

Control the chart Symbol, Timeframe and Indicators from the dashboard with just a mouse click.

Have full control over alerts through: Audiable, Visual, Terminal, Email, Mobile

Use 32 trading strategy alerts

Choose from immersive color themes (every Color and Font is fully customisable)

Choose the ideal scale for the trader and the chart – from tiny to extra large
In addition, Mega Dash has been designed with our unique algorithms to work as efficient as possible with system resources, and to ensure that all alerts including Mobile (Push) Notifications do not exceed the Metaquotes limits, and this is monitored and controlled across all our products no matter how many charts they are being run on.

Example Dashboards




Simple To Use (1-2-3 – Run Dashboard)
1 – Symbol Sets
Use the Search facility to select your indicators.
Give them a short display name if you want to.
Activate/deactivate individual symbols as required (default is activated).
Load, Save and Manage unlimited Symbol sets at the press of a button.
Its easy and takes just a few seconds to create a symbol set.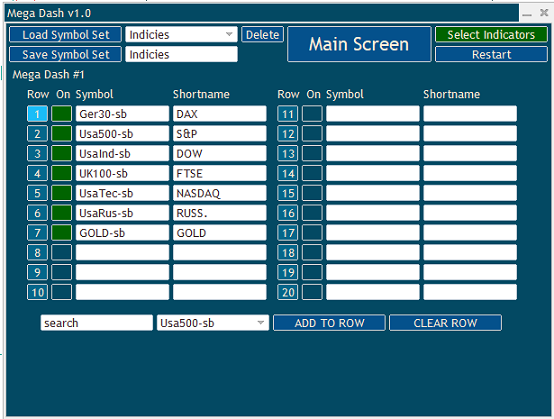 2 – Indicator Sets
Select Indicator and Timeframe.
Use the default settings or adjust as required, including alert thresholds.
Use the 'Create MTF Set' to create a version of the indicator for each timeframe selected with one simple button press.
Activate/deactivate individual indicators as required (defaults to activated).
Load, Save and Manage unlimited Indicator sets at the press of a button.
Its simple and takes just a few seconds to create an indicator set.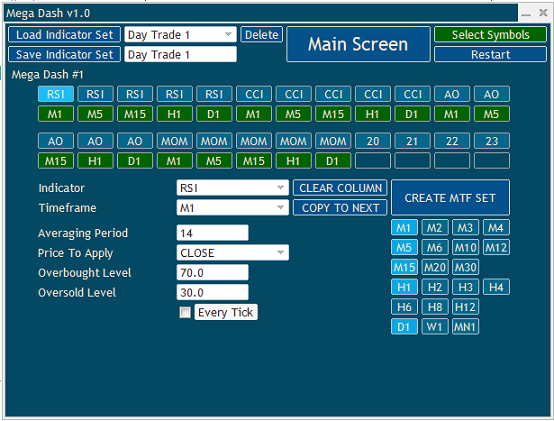 3 – Dashboard Settings
After either loading or creating indicator and symbol sets in steps 1 & 2 you can just run the run dashboard.
If you want to override the default settings or save the complete dashboard then step 3 allows you to do just that.
Select a Scale to adjust the size of the dashboard 8-14 (default 10).
Select from a range of immersive color themes.
You can change the default fonts if you like (from those installed on your computer)
Turn on/off different alerting methods
Choose an audiable alert sound (choice of 22 sounds)
Adjust alert timings if you like.
Load, Save and Manage your complete dashboards at the press of a button.
Loading a dashboard loads all the settings choices, and symbol and indicators sets that were loaded at the time the dashboard was saved.
Including any individual color overides.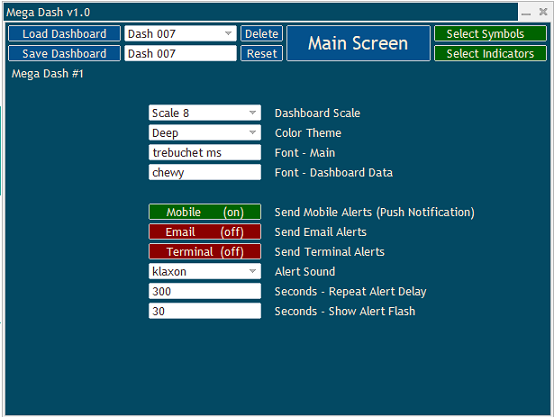 Mega Dash: Advanced – Easy To Use – Unlimited Options
Mega Dash provides you with so much flexibility, choice of indicators and ease of use,
we think it is probably the best dashboard you can get.
** SPECIAL OFFER ** Claim a FREE version of Pivot Prof
As well as getting everything Mega Dash provides, owners can also claim a free version** of our very popular Pivot Prof product.
To claim simply email us a copy of your reciept (from MQL5 site) and of your review for Mega Dash.
Email should be sent to: support@pivotprof.com with Subject: Mega Dash Free Pivot Prof
** Note: The free version of Pivot Prof is fully functioning but restricted to a single symbol, account and three months.

Mega Dash – Quick Setup Tutorial
This video will get Mega Dash owners creating dashboards in no time at all
[embedded content]