January 4, 2021
no comments
Futures for US stock indices resumed their growth. S&P 500 futures opened today's trading day with a gap up 300 pips to last year's close (at 3730.0). As of this writing, S&P 500 futures are traded near 3772.0.
Despite the tightening of quarantine in the United States and a number of European countries due to the further spread of the coronavirus, investors are pleased with the start of mass vaccinations, which gives hope for the continued recovery of the world economy after its fall in 2020, and especially in its first half. Financial market participants hope that mass vaccinations will help return business and social life to its usual course in the foreseeable future, which will accelerate the economic recovery.
Investor optimism is also fueled by unprecedented stimulus measures from governments and central banks in several of the largest economies, prompting investors to focus on the outlook for the coming year, while ignoring threats of tightening quarantine measures.
Above the key support levels 3397.0 (highs on the eve of the fall in February 2020), 3362.0 (ЕМА200 on the daily chart), the long-term positive dynamics of the S&P 500 remains.
The growth of the index is most likely to resume (see Technical analysis and recommendations)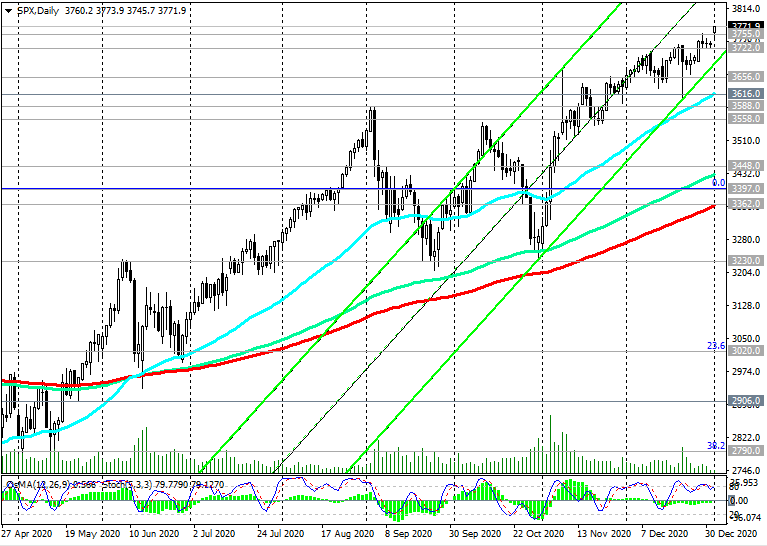 Trading recommendations
Sell ​​Stop 3740.0. Stop-Loss 3790.0. Targets 3722.0, 3656.0, 3588.0, 3558.0, 3448.0, 3397.0, 3362.0, 3230.0
Buy by market. Stop-Loss 3740.0. Targets 3800.0, 3850.0, 3900.0
*) for trading, I choose THIS BROKER and use VPS (to receive a bonus, enter the promo code – zomro_17601)