March 4, 2021
no comments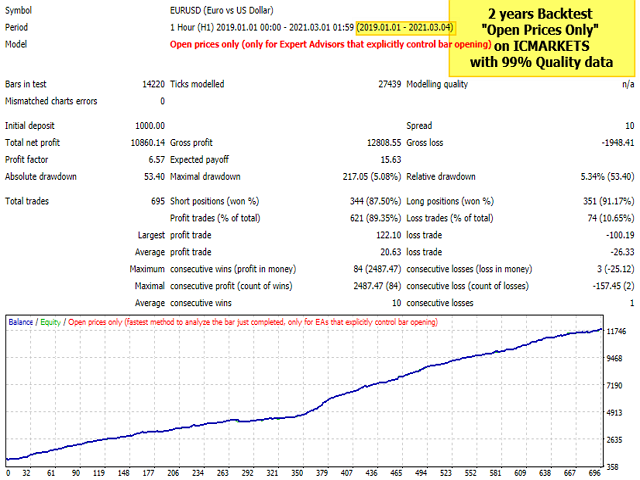 Backtesting with OPen Prices Only cause ea opens positions on new bar.
OBELIX is a fully automated EA designed to trade EURUSD in H1 only. It is based on machine learning cluster analysis and genetic algorithms. EA contains self-adaptive market algorithm, which uses price action patterns and standard trading indicators.
Entry and exit logic operates on Bar Close only. This filters market noise, dramatically speeds up optimizations, avoids stop loss hunting, and ensures proper operation at any broker with a reasonable spread. The EA uses an advanced algorithm to find the entry points, as well as several additional filters for entering and exiting the market.
Working symbol EURUSD
Working Timeframe: H1
Min deposit:

$3

00
Min leverage 1:30
No grid, no martingale, no arbitrage, no tick scalping, non curve fitting!
2 year 99% quality backtest
Backtest fastest method with Model: Open Prices only (Entry and exit logic operates on bar close)
No optimiziation need.
Best optimized for actually market situations.
FEATURES
Works with 4-5 digits Brokers
Spread Filter
Equity Stop
Drawdown Protection
Fast Buttons for Closing Open Orders (CloseAll, CloseProfit, CloseLoss, CloseBuys, CloseSells)
Infopanel with EA informations
6 Types of Money Management(Fixed Lot, Percentage, Geometrical, Proportional, Balanced,RiskPercent of Equity)
Adjustable trading times
Advanced algorithm for entering and exiting the market.

Trailing Stop with 6 different methods

Hard stop loss and take profit for each position
Easy to install