March 14, 2021
no comments
One of the ways to be successful in the trading industry is to understand how the market works, dynamic and undirected movements cause traders to lose direction and get a lot of losses. It's all about the wrong map!
The wrong map of the market views causes mental breakdown, damages their money management and blows their own account.
Straight to the point, Elliott Wave is the key! Elliott Wave is human behavior by the reasons the market moved from current, previous and the future, meaning the market is a natural phenomenon which has the same pattern and repeats itself.
Introduction..
Harmonic Magic – MT4 Indicator
This is a unique, simple and elegant indicator, combination between Harmonic Patterns, Elliott Wave, Fibonacci Pivot Points, Quarters Lines and Average Daily Range, the key to success in your trading.
The indicator can be controlled to your liking just by rocking the mouse and keyboard in one click intelligent system. and BOOM! the magic will appear.
This tool can make it easier to understanding the market behavior, reading the Elliott Wave in easy way and can find out what the relations between Elliott Wave and Harmonic Patterns, Your trading will be more objective when entry and exit the market with a confidence in the right places, so that you can minimize losses and increase your profits as much as possible.
Keyboard Functions :
Held Shift+Candle target = Find Direction

Held Ctrl+Candle target = Measurement Harmonic Pattern

Press A = Call ADR & Infoboard

Press P = Call Fibonacci Pivot Points

Press Q = Call Quarters Lines or Round Numbers

Press Del = Clear Chart
---
Step, Guide and Manual Process
[embedded content]
---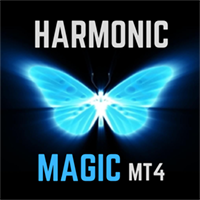 https://www.mql5.com/en/market/product/62107