December 29, 2020
no comments
At a press conference in December, when the ECB decided to keep its key interest rates unchanged and announced a decision to increase the Pandemic Emergency Procurement Program (PEPP) package by 500 billion euros to 1,850 billion euros, ECB Governor Christine Lagarde said that the incoming data suggest a more pronounced short-term impact of the pandemic, confirming that uncertainty remains high and the ECB may adjust its instruments.
Nevertheless, the statements of Lagarde and the actions of the ECB did not put pressure on the euro, which has recently become one of the main alternatives to the dollar.
The bullish sentiment of market participants in relation to EUR / USD remains, and, most likely, in the near future we will see further growth of the pair. A breakdown of the nearest resistance level 1.2270 (see Technical Analysis and Trading Recommendations)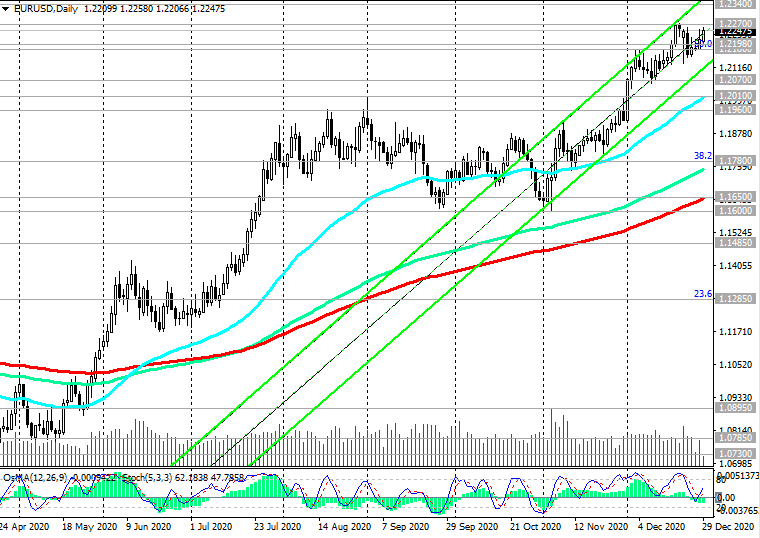 will become a bullish signal for the EUR / USD pair.
In the short term, one should not expect any significant strengthening of the dollar. Low yields on US Treasuries, coupled with the Fed's soft monetary policy, intended to keep interest rates near zero for the next several years, as indicated by the Fed leaders, will contribute to the weakness of the dollar in the longer term.
For today, the publication of important macro statistics in the economic calendar is not planned. Trading volumes are kept at low levels, and trading volatility is minimal.
*) for trading, I choose THIS BROKER and use VPS (to receive a bonus, enter the promo code – zomro_17601)