December 24, 2020
no comments
The world is starting to prepare for the new year 2021. Trade and business activities are significantly reduced these days, which can not be said about the retail trade, for which the "golden" days are coming, despite strict quarantine restrictions.
Accordingly, there are practically no important events and publications in the economic calendar.
The dynamics of the financial market will still be influenced by information regarding the coronavirus and Brexit. Although discussions on this issue are still ongoing, it is expected that by the end of December the parties (representatives of the EU and UK) will still sign a trade agreement. The media also reported that the British Parliament will approve the Brexit deal on December 30.
Meanwhile, quotes for oil futures moved to decline on Thursday after rising on Wednesday amid positive data from the US Department of Energy, indicating a reduction in commercial oil reserves in the country last week.
At the start of today's European session, the price of Brent crude oil declines after rising during the Asian session and reaching an intraday high near $ 51.75 a barrel. At the time of this posting, Brent crude is trading near the 50.80 mark (see "Technical Analysis and Trading Recommendations").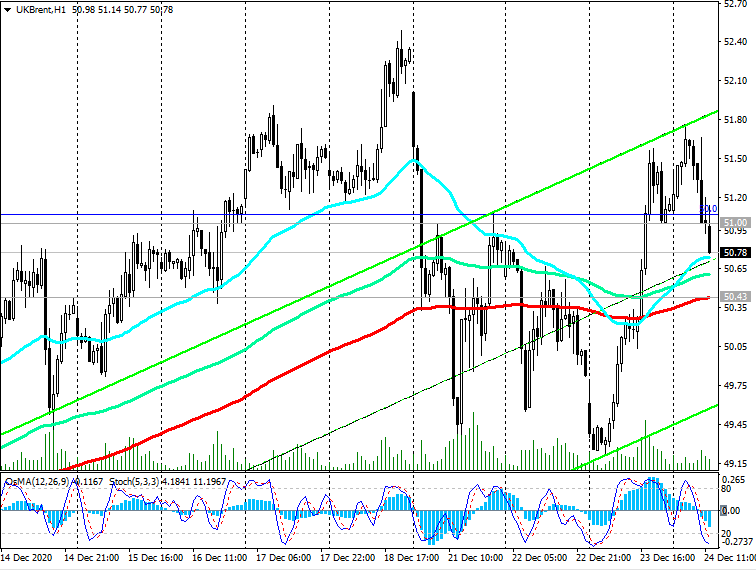 Above the support levels 50.43, 47.91, 45.00, 46.00, the long-term positive price dynamics remains.
*) for trading, I choose THIS BROKER and use VPS (to receive a bonus, enter the promo code – zomro_17601)